The T-shaped has changed the concept of the acupressure tool!
Easy and comfortable to use
Magic Mallet Genki-kun
For deep tissue massage and acupressure!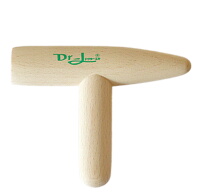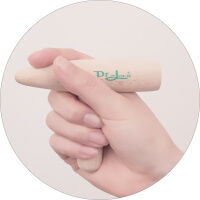 * * Click here for more info * *
Benefits
Magic Mallet Genki-kun helps you:
Helps relieve stiff neck and shoulders
Helps massage deep tissues such as sole or palm
Helps stimulate blood circulation
Helps reduce stress and strains on muscles
[back]
Recommended for
For those with stress or strains on muscles, and stiff neck or shoulders
[back]
How to Use



[back]
Specifications
Material: The beech wood (the thinned wood included)
Size: 10.3 × 8.1 × 2.4 cm (4.1 x 3.2 x .96 in.)
Monogramming: Personalization by printing your company name is available as well. Monogramming is available for ordering 60 or more. There is free of charge if ordering 120 or more. Please email us for details.
*Only one color is available for printing.
[back]
Cautions
Do not use for purposes other than the directions mentioned above.
Do not press too strong with the tool.
Do not use on injuries, inflammations, tumors, or any other parts with abnormalities.
Stop using immediately if you feel pain using it.
Use only the dimpled back to press your head and joints.
Wait at least one hour after meal to massage.
Keep out of reach of children.
Consult your doctor before using. Especially if you are ill or have an injury, this is very important.
[back]
More Info
A handy tool made of beech wood that relieves stiff shoulders and neck, press trigger points on various parts of the body such as soles, toes, palms and legs.

Magic Mallet Genki-kun offers 3 ways of grips and various acupressure techniques.

Ten-ki, pointy head, ('ten' means 'pointy' and 'ki' means natural energy of the universe, an equivalent of Chinese 'chi'), is for pushing in the point. Useful for deep tissue massage, especially, soles, toes, and palms.
Kyu-ki, rounded bottom, ('kyu' means round or ball), can be used like your thumb for massaging legs, shoulders, waist and such.
En-ki, dimpled back, ('en' means circle), is for gentle massage for your head, neck, joints, shoulders, and such.
Trigger Points
[Fig. A] Reflexology Chart [Fig. B] same for both right and left feet
[back]