Worried about your baby developing a flat head? Use Nelco-Zero!
Nelco Zero

Experts say that babies aged 0 months old to 7 months old are still forming their head shape. Nelco-Zero's unique shape helps support a baby's head during sleep to create a well-balanced head shape.


○ Three Dimensional Shape:
Allows excellent support for the baby
Provides comfort with a soft and gentle material.
Naturally fitted shape fits baby's head perfectly

○ Specially designed unique pipe filling:
Completely noiseless and very soft
Allows the pillow to breathe at night
Reduces bacteria and common allergens
Warning:
Always use a pillowcase with the Nelco-Zero
This product is for face up use only.
Never let your baby sleep face down when using this product.
Please make sure that your baby's head is level and there is no strain on your baby's neck. Please adjust the pillow accordingly if there appears to be strain or unevenness.
Babies have a tendency to shift during their sleep towards light thus, please adjust the blanket accordingly.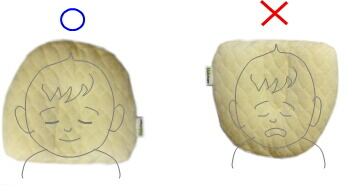 How to care for Nelco Zero:
This pillow is entirely machine washable (be sure to use a laundry bag).
Please air dry. Do not use a dryer as it may damage the delicate inner materials.
[back]
c Copyrights. Doctor L. https://www.dr-l.co.jp/ 2003-2015. All rights reserved.